Tennis at La Mariposa
La Mariposa gives you the opportunity to play a great sport in beautiful sourroundings. And with our great pros, leagues and camps, and our exciting ongoing tournaments, we have plenty of tennis culture. Come play in a positive, fun, skills-building environment, and enjoy a great place to meet other tennis players.
Tennis Clinics
Hone Skills, Enjoy competitive Action
Please contact Ian Esquer (520) 270 4869 or [email protected] for more information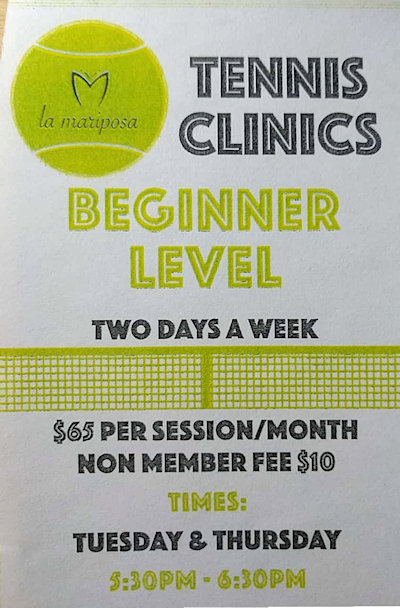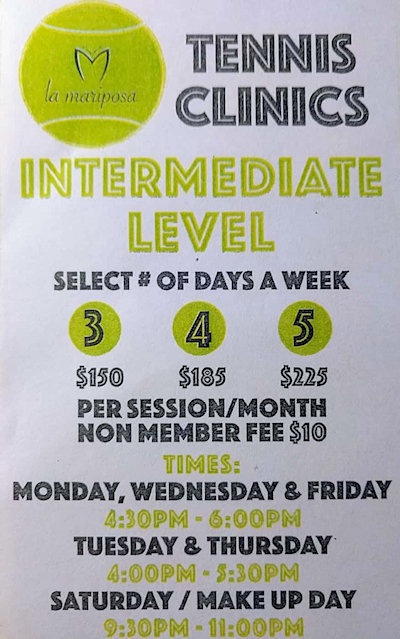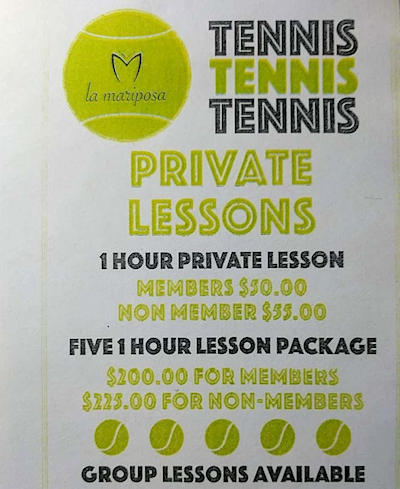 Whether you're new to the game or have been playing for years, La Mariposa has the tennis facilities to help grow your game. If you are new to tennis, we'll help you build a foundation for a well-rounded game. If you've been at it a while, we'll help you get to the next level. We've got plenty of opportunities for instruction, and you can test your skills by joining our tennis leagues and tournaments for both singles and doubles. We've also got a matching service to help you stay in the game with players at your skill level.
Meet our Pros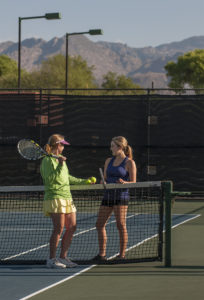 Evan Philips– Evan's accomplishmensts include: no 1 ranked player in Virgin Islands for 13 years, 24 to 1 winning record in his senior year at Oral Roberts, playng at Wimbledon, wins over 25th ranked players in world, and 30,000 hours of lessons to students including some that earned college scholarships, and those that have gone on to play professionally. Evan's success stems from his vast playing experience, his ability to teach stroke fundamentals and footwork in a clear simple manner, and his understanding of how to win matches. Evan is limitlessly patient and loves teaching at every level.